Information Related to Pennsylvania Deep Gas Well Activity
Wells » Drilling Maps

The Drilling Map information at MarcellusGas.Org typically represents the gas well drilling plan submitted to the DEP by the gas company performing the drilling at the well site.

These drilling maps are prepared by licensed surveyors, and typically indicate the location of the well, the path that the horizontal drilling will follow (if the well was designated as horizontal), surrounding property owner information, and considerable additional information.

Drilling maps are available and can be purchased as Adobe PDF files: View Sample PDF Drilling Map (representing an Elk Lake School District gas well Drilling Map).

When practical, these drilling maps are highlighted so the viewer may more quickly recognize the well location, the horizontal drilling path, well name, and depth information. The image below is an example of a highlighted drilling map. You can view the full sized version by clicking on the map image.

Purchased Drilling Maps will be stored in your Member Account area, and remain available for download for a period of 30 days.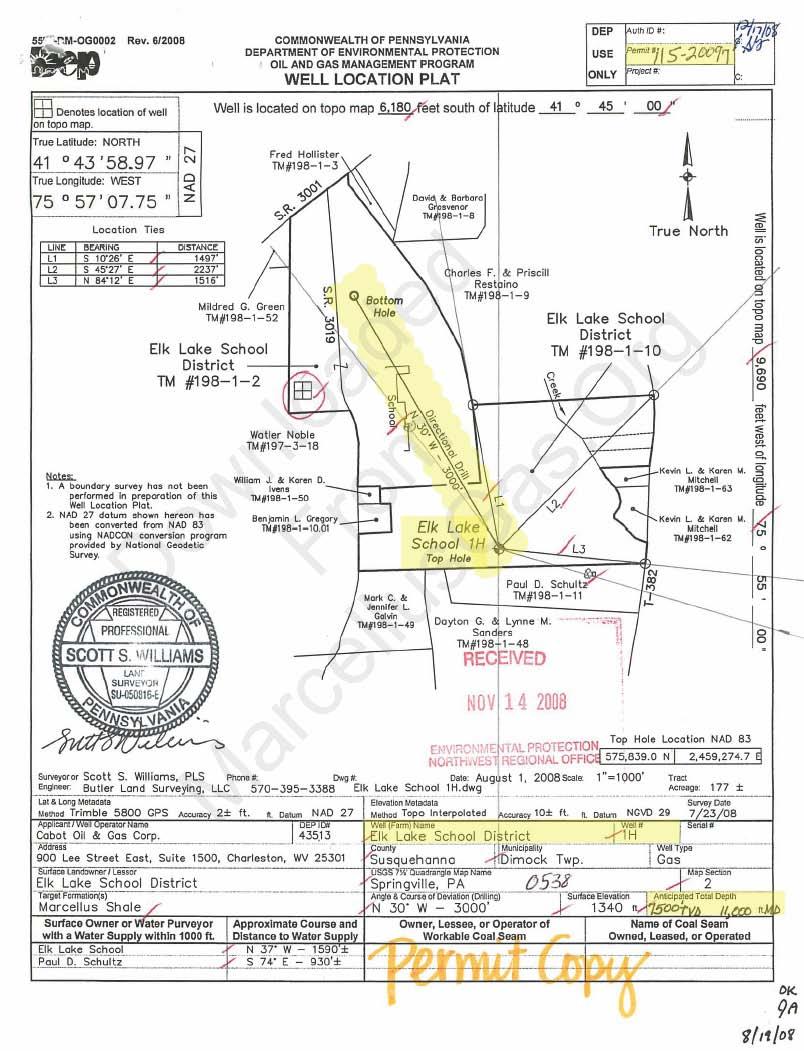 View Full Sized Version

Drilling maps purchased at MarcellusGas.Org are available as Adobe PDF files: View Sample PDF Drilling Map.


---


Additional information typically found on Drilling Maps often includes:


Drilling depth and length of horizontal drilling run
Surrounding property owner names and tax map numbers
Well permit number
Gas company name and address
Preparing surveyor name and address
Surface Landowner/Lessor name
Property track acreage
Geographic latitude/longitude and location ties for well location
United States Geological Survey (USGS) quadrangle map name
Surface elevation of well site (above sea level)

Return to top